Bungee Jumping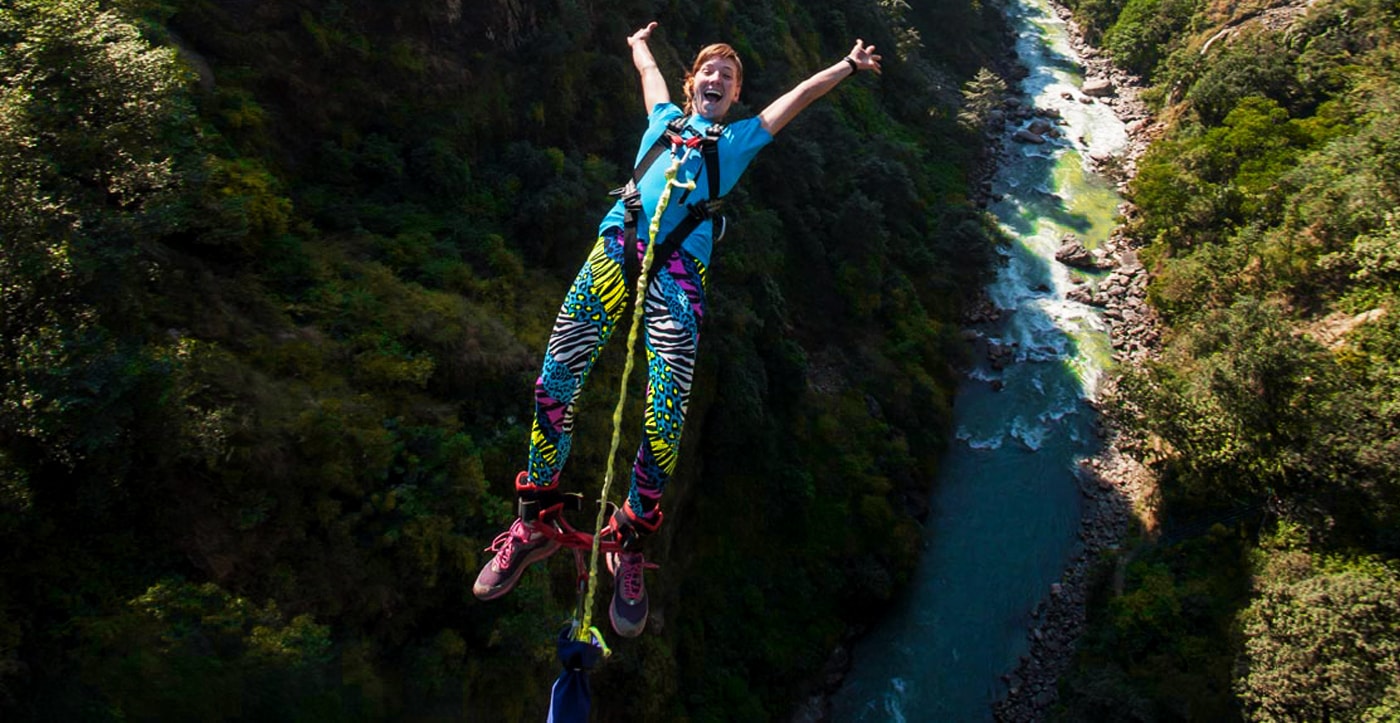 Imagine jumping 160 meters off a bridge above a tropical gorge with the Bhote Koshi, one of Nepal's wildest rivers raging below! You're guaranteed thrills like never before!
The bungee jumping spot is located 4 hours outside Kathmandu and just 19 km away from the Tibetan border. The bungee bridge happens to be the only privately owned bridge in Nepal. It has been specially designed for bungee jumping with a 4x-safety factor and has a loading factor of 41,500 kg or 4.5 tons according to Swiss measurements.
The Gorge: The Ultimate Bungee Nepal takes place on a 160 meters wide steel suspension bridge over the Bhote Koshi River.
The Jump: The Ultimate Bungee at The Last Resort in Nepal may be the most spectacular Bungee Jump on the Planet. This remarkable 500ft (160m) drop into the Bhote Koshi River gorge on the Nepal/Tibet border is the longest free-fall in the world. Designed, constructed and operated by very experienced Kiwis to exacting international standards your safety is guaranteed.
Experience Nepal's Ultimate Rush! minimum 18 y/o Starting time: 5:30 am
Activity requirements – All participants under the age of 18 would require their parents to give consent to our liability release form. – All participants need to be big enough to fit all safety equipment. – All participants are required to sign a liability release form before the jump, stating that they do not have any of the following medical conditions: Heart disease / Epilepsy / High blood pressure / Pregnancy / Addiction to Alcohol or drug / Orthopaedic problems / Psychological problems / Neurological problems.
You are encouraged to be open about any medical conditions as this relates to safe operations of activities.
Minimum weight: 40kg Maximum: 100kg
Special terms
Does the Bungee run every day? December, January, February, June, July: Sunday, Wednesday, Friday and Saturday only
March, April, May, August, September, October, and November: Every day except Monday.
Can I buy a video of my jump? The video guy shoots video and still photographs of every jump, and they will show you after your jump. You can decide at the resort if you want to purchase or not. The cost is NPR 2300 per person, including video, 4 pictures, and one free beautiful t-shirt.
Requirements, special terms & more
Included – All necessary jump gear – Transfers
Do not forget to bring
– Closed shoes – Comfortable clothing adapted to the weather conditions – Bottled water and snacks
Bungee Pokhara – 70 Meter Vertical Drop – 3 Sec Free Fall
Nepal's first and only tower Bungee, High Ground Bungee has something for everyone. Located at a convenient 20 minutes from Pokhara Lakeside, the jump site offers a spellbinding view of the Himalayas, the hills and the rivers that will take your breath away.
CONSIDERATIONS: The High Ground bungee is set-up and operated by highly trained professionals (jump-masters) from Europe and comply with the highest safety standards. We have adopted the best technologies in the industry and the highest quality.