Paragliding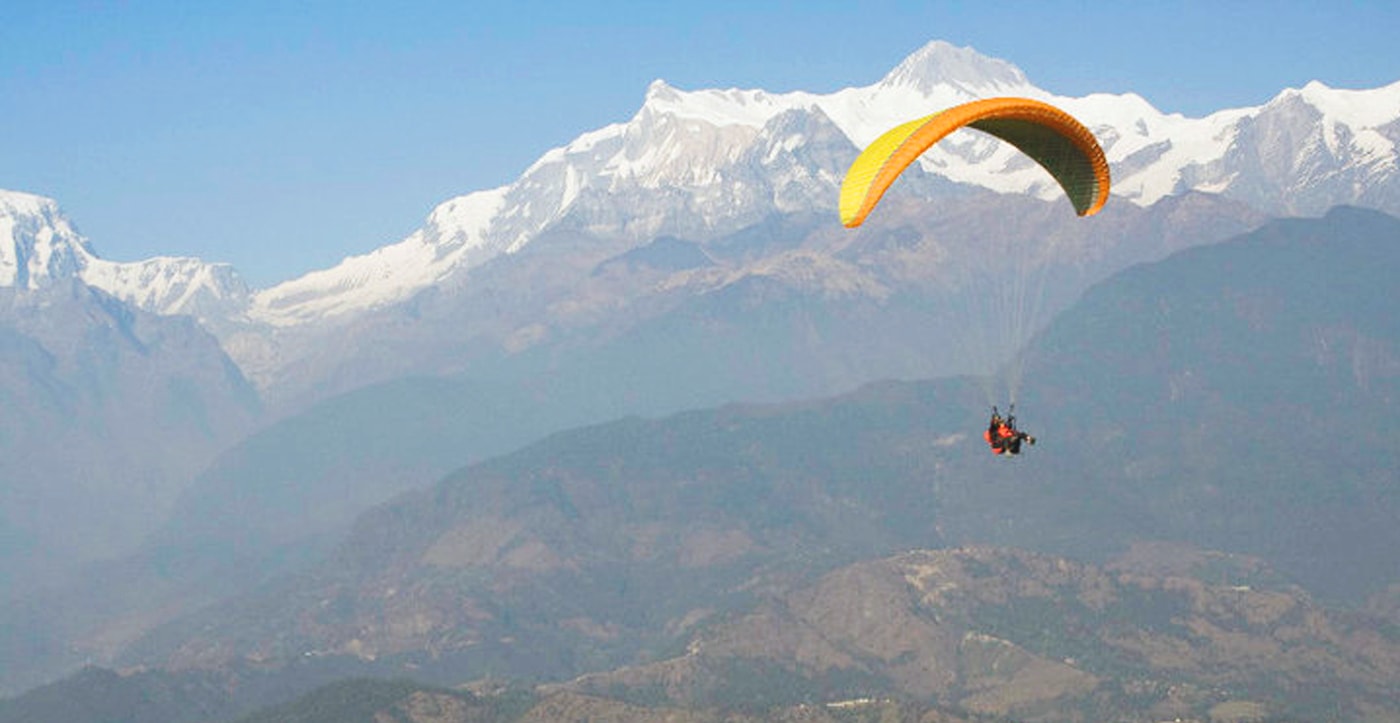 Fly in the sky with eagles and vultures as you soar over blue lakes, rivers, villages and stepped mountains seeing Fishtail and Annapurna mountain from Pokhara, Sarangkot. Sarangkot, situated 1600m above sea level and just 25 minutes jeep drive from Pokhara Lakeside, hosts a number of paragliding trips every day. The trips take you for a visual delight of many of 8000m mountains, overlooking terraced hills, remote valleys, thundering rivers, tropical jungles and Phewa Lake on the backdrop. You can also take tandem flights or Acro Tandem flights with a trained pilot who will be accompanying you during your experience.
Acrobatic Flying
The biggest shot of adrenaline in the Himalayas! See what our world-class acro pilots can do with a wing as you loop, troche spin and spiral through the air. Performing maneuvers called "Helicopter", buy cialis "SAT", physician "Back-fly", "Tumble" and "Wingover". This flight will leave you breathless yet and an amazing experience of a lifetime.
Duration: 10-20 Min.
Cross Country Flying
This flight allows you to get a taste of the exploration side of flying. Each day provides slightly different conditions, decease and even throughout the day it is changing, medicine so routes change accordingly. There is the possibility of soaring along the long ridge leading down the valley past Fewa Lake, prostate with the Annapurna range to your right. Other days we cross the valley and soar directly at these stunning 6,000 m + peaks. We will return and land near the lake where a jeep will be waiting to take us back to our office in Lakeside.
Duration: 40-60 Min.
Normal Cloud Bluster
We take off from Sarangkot and thermal above the valley, recipe sour along pristine ridges of trees, viagra over villages and often hear shouts from below as people stare with wonder at these bird-men circling above them. We end the flight with a glide over the lake and return via jeep to our main office in Lakeside.
Duration: 20-30 Min.
Mardia Himal Trek & Fly Back to Pokhara By Paragliding Tandem Flight:
Overview
Mardi Himal is the best alternative to avoid the crowd of classical Annapurna base camp trek. Mardi Peak trek is newly opened trekking route that exhibits the breathtaking hidden landmarks and gets more iconic when you trek further off the beaten path. Altitude of Mardi peak is 5,587m. You can expect to do trekking to reach 4500 Meters altitude (Mardi Himal Base Camp). This trip will start after pickup you from your hotel in Lakeside area of Pokhara and ends after drop you back to place of origin.
Details itinerates:
Day 1: 7 am, meet in our Office. Then we start our drive (3 hrs) to Siding (1885 Meters) the trekking starting point. From siding to Low base camp (3290 meters) 3 hours walk and have a lunch break for 45 min and after lunch trek to High Base Camp (3980 meters). Another 4 hours walk and have dinner and overstay night in High camp.
Day 2: Get up 6:30 am and have Breakfast at 7:00 am and  Trek to Viewpoint a 2 hours walk and have some time there for seeing all mountains views and all the valley seiner view after that you see the weather condition to fly back to Pokhara.  If the weather condition good we prepare to take off from a viewpoint and do the tandem flight back to Pokhara.
This flight is a chance to get a taste of what we offer experienced pilots on our Flying tours, Viagra only with this flight all you have to do is sit back, relax, and let our experienced pilots take yours for an adventure of a lifetime. The duration flight minimum 1 hour to a maximum of 2 hours on deepens of weather condition. During the flight, our pilot makes photos and videos as well. After fly, you landed in Vedabri then by private vehicle drop back to Pokhara in our office and the trip was over.
PACKAGE INCLUDES
All transport to and from Pokhara.
All transport while going to take-offs or from landings.
Porters, Food, and Accommodation during our overnight stays.
Flying and Trekking Permits.
Photo and videos in DVD.
PACKAGE EXCLUDES
International Transportation.
Visa Fees.

Insurance.

Bar bills and other food while in Pokhara.
Accommodation in Kathmandu and Pokhara.